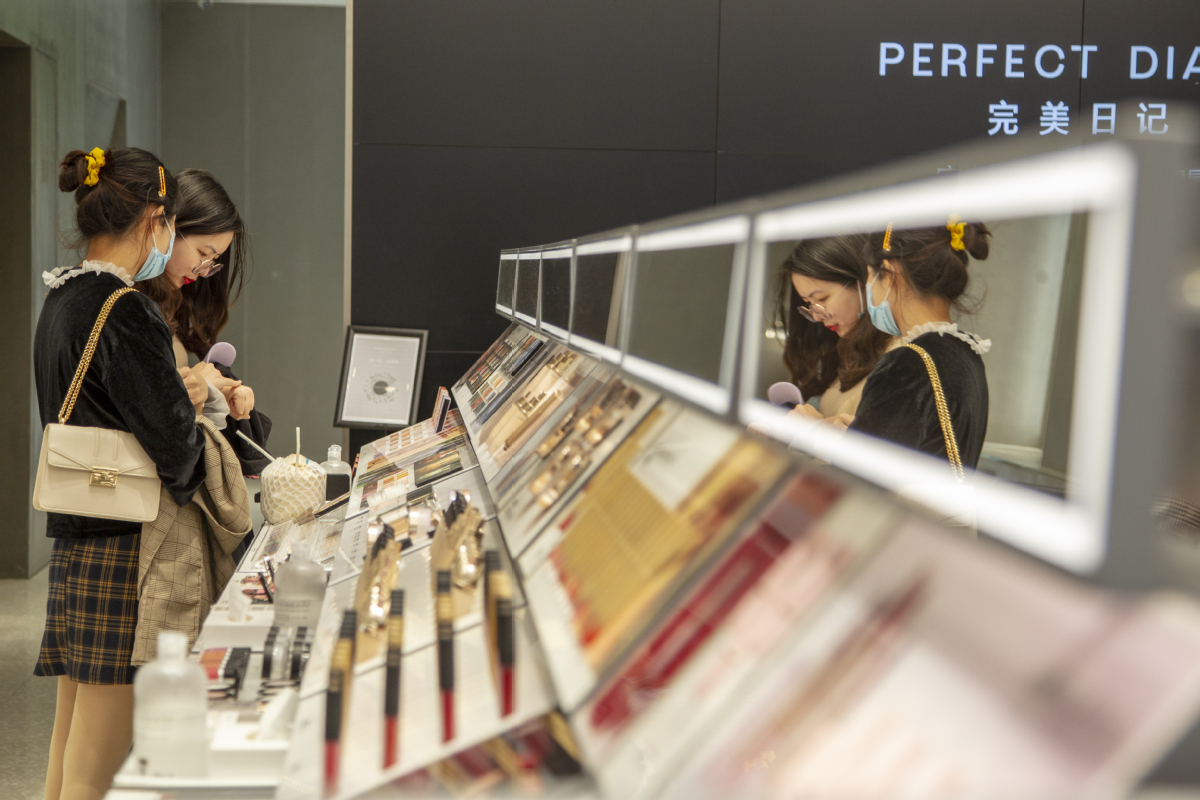 Improved quality, brand cachet, e-commerce all contributing to more global sales
For years, cosmetics brands from Europe, the United States and Japan have dominated the global market. But the growing cachet and volume of homegrown Chinese lipsticks, eyeliners and face blushes-becoming more popular among Chinese consumers-are also gaining momentum from consumers overseas, boosted by rising internet retailing and youth trends.
Data from the General Administration of Customs showed that in the first three quarters of last year, China exported $3.14 billion worth of cosmetics, far exceeding the export value of both 2018 and 2019, which was $2.5 billion and $2.77 billion, respectively.
According to a report jointly released by research firm CBNData and Alibaba's Tmall, during last year's Double Eleven shopping spree in November, Chinese cosmetics sold on Tmall's international platform surged over 10 fold year-on-year.
Wu Daiqi, CEO of Shenzhen, Guangdong province-based Keythink Culture Communication Co Ltd, said, "International consumers are now showing a growing interest in traditional Chinese culture, and Chinese cosmetics brands are set to leverage this interests."
In addition to cultural factors, China's homegrown cosmetics brands have formed relatively mature industrial chains and cultivated an increasing number of sector professionals, Wu said.
According to Shenzhen-based research firm AskCI Consulting, 2020 exports of China's cosmetics and toiletries totaled 999,019 metric tons, up 4.3 percent year-on-year, with an export value of $4.24 billion.
Among exported cosmetics, lipsticks, eye shadow and blushes were the bestsellers, while mascara and facial powder showed great sales potential, said the report from AskCI.
"In recent years, several local brands have emerged," said Wu Rong, a cosmetics expert at Chinese news portal Jiemian.
"The development of China's cross-border e-commerce and logistics sectors, as well as the fact that China has recovered relatively quickly from the COVID-19 pandemic, also put domestic cosmetics brands in an advantageous position in the global market," Wu said.
Chinese homegrown cosmetics brands have developed various overseas markets and set up preferential distribution channels, Wu added.
For example, Guangzhou-based cosmetics brand Perfect Diary is putting extra focus on the Southeast Asian market. In 2020, Perfect Diary teamed up with Sensient Technologies Corp-a provider of coloring products to the pharmaceutical, cosmetics and personal care industries-to establish a cosmetics laboratory in Singapore, and launched an overseas version of its official website.
Perfect Diary's business proved to be a success in Southeast Asia. In May, on Shopee, the largest e-commerce platform in Southeast Asia, it topped beauty product sales in Vietnam and cosmetics sales in both Singapore and Malaysia, and sales of its face powder ranked tops in the Philippines.
Meanwhile, Hangzhou, Zhejiang province-based Florasis chose Japan as its first overseas stop.
The company said that Japan and China both belong to the same Asian cultural community, and share strong cultural and aesthetic traits. Meanwhile, Japan encompasses both Eastern and Western culture, and the Japanese market can serve as a touchstone for the company to enter European and US markets.
In addition, the company said that prior to entering the Japanese market, some of its products were already attracting great attention. Its West Lake-themed cosmetics gift box was well received in Japan, appearing among hot topics on Japanese Twitter.
A cosmetics gift box decorated with Miao ethnic group elements was also a hot seller. The overseas shopping price for the box ranged from 900 yuan ($140.6) to 2,000 yuan.
In terms of its overseas distribution channel, Florasis took advantage of Tmall's international platform. Meanwhile, Perfect Diary and Colorkey, another Guangzhou-based cosmetics brand, entered Southeast Asia through Shopee.
Offline distribution channels are also favored. In 2018, Shanghai-based Marie Dalgar entered Thailand, Malaysia and Singapore through offline cosmetics store Sephora. Guangzhou-based Zeesea entered Japan through Matsukiyo-the largest cosmeceuticals chain store in the country.
By the end of this year, Zeesea plans to have 7,000 brick-and-mortar stores in Japan, the company told Jiemian.
To better tap into overseas markets, Chinese cosmetics brands have made needed adjustments.
For example, Florasis' hottest-selling lipstick color in the Chinese market is bright red, while in Japan, favored shades are maple leaf red, peach pink and berry red.
In terms of pricing, according to Florasis, its overseas price is 1.7 times that seen for the same products in China after considering tariff, logistics costs, overseas services and operations.
"In terms of quality, formula, design, innovation and value, we are no different from our international peers," said a spokesperson for Florasis, who declined to be named.
"Affordability is no longer the only tag of Chinese cosmetics brands. Creativity and originality are why we thrive and continue to win our customers," said the spokesperson of Florasis.
Perfect Diary is also stepping up efforts in localizing products overseas. According to the overseas business department of Yatsen Holding Ltd-its parent company-Perfect Diary launched a cross-branded cosmetics series with Sanrio, a popular intellectual property brand in Southeast Asia.
In addition, in the Southeast Asian market, Perfect Diary found that red bean and rosy pink were the hottest-selling colors for its lipsticks.
"Based on local needs, we upgrade our products. For example, the tropical weather in Southeast Asia requires higher makeup retention capacity. As a result, we pay more attention to the oil control function of the facial powder launched in the local markets," said an executive from the overseas business department of Yatsen, who declined to be named.
Hu Qimu, a senior researcher at the China Digital Economy Institute, said that the next three to five years will see great potential for Chinese cosmetics brands to expand overseas.
Huang Tao, an independent expert in public relations, said, "To be deeply immersed in overseas markets, homegrown brands should maintain core competitiveness with independent supply chains to improve product quality."
Huang added that: "In the process of globalization, they should carefully study the consumption habits of local users, constantly sum up experiences, and adjust and diversify product portfolios.
"Chinese brands should pay attention to international communication and build global brand power," said Huang.
"To tell a good story, it is key to create localized communication content on digital platforms, such as videos and livestreaming."
Origin:By ZHENG YIRAN | China Daily