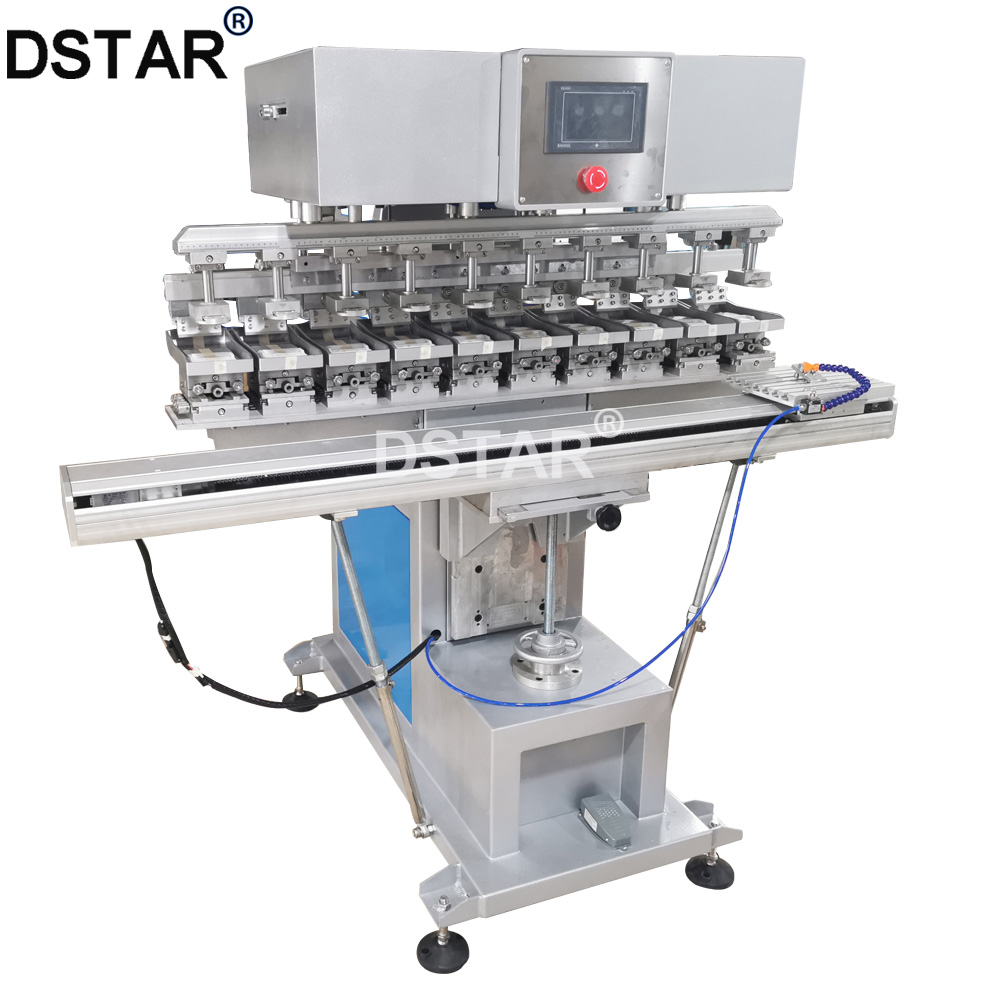 Product:plastic doll toy pad printing machine
Model:DX-SM10S
Brand:DSTAR
Printing color:10 color
Printing plate size:100*200mm
Ink scrap:open ink well system
Shuttle worktable:servo drive
Silicone pad F/B & U/D:pneumatic drive
Pad central space:127mm
UP/DOWN stroke:75mm
Machine size:L165*W96*H150cm
N.W:480KGS
Voltage:AC220V or AC110V/200W
The machine printing color can be 1 to 10 color and user defined the printing program
PLC control system with servo motor drive the slidding shuttle
HMI (touch screen) to display machine parameters and monitor pages
X.Y.Z.R adjustable worktable to be conveniently adjust position
The printing plate position can be X.Y.R adjustable
The silicone pad can be X.Y.R.Z adjustable
Printing speed and silicone pad up/down stroke can be adjustable
Silicone Pad (also named tampon rubber)
Pad printing plate (also named cliche or printing stencil)
Ink blade (there are ink blade and ink cup for different ink scrapping system)
Fixture (it's customized according the product shape)
Pad printing ink and ink thinner
First of all, thank you very much for your attention to our company's products. In order to more accurately recommend suitable machines and provide suitable quotations, we need you to provide the following information:
What product do you print? What's the product material?and please share sample picture
How much printing color?
How much product printing size and product dimension size?
Which printing ability do you require per hour?
Pad printing (also called tampography) is a printing process that can transfer a 2-D image onto a 3-D object (e.g. a ceramic bowl). This is accomplished using an indirect offset (gravure) printing process that involves an image being transferred from the cliché via a silicone pad onto a substrate.
Pad printing is used for printing on otherwise difficult to print on products in many industries including medical, automotive, promotional, apparel, and electronic objects, as well as appliances, sports equipment and toys. It can also be used to printing many different kinds children toys.Such as toy plane,toy automotive,toy dolls.As you see,the babie doll toy face is decorated by pad printing as well.
Physical changes within the ink film both on the cliché and on the pad allow it to leave the etched image area in favor of adhering to the pad, and to subsequently release from the pad in favor of adhering to the substrate.
The unique properties of the silicone pad enable it to pick the image up from a flat plane and transfer it to a variety of surfaces, such as flat, cylindrical, spherical, compound angles, textures, concave, or convex surfaces.