Pad Printing Machine Market Snapshot
According to Future Market Insights (FMI), the global pad printing machine market is poised year-on-year (YoY) growth of 4.5% in 2021. The global sales for pad printing machines is expected to grow at a CAGR of 5.4% between 2021 and 2031, reaching US$ 1.8 Bn by the end of the assessment period.
Pad printing machines are increasingly used for marking and printing various products within the healthcare industry. The rising demand for printing machines that can lay down simple single color image or multicolored complex graphics efficiently will result in high pad printing machine sales.
Driven by this, the pad printing machine market is expected to account for 20% of sales in the US$ 20 Bn worth global printing machine market in 2021. Growth will continue as application soars in food and beverage and automotive industries.
| | |
| --- | --- |
| Data Points | Market Insights |
| Pad Printing Market Estimated Year Value (2021) | US$ 1.1 Bn |
| Pad Printing Market Estimated Year Value (2031) | US$ 1.8 Bn |
| CAGR 2021-2031 | 5.4% |
By FMI
2021-2031 Global Pad Printing Machine Market Outlook Compared to Growth Registered in 2015-2020
The pad printing machine market is driven by the advent of novel technologies, improved software, and better quality of inks to offer greater flexibility and efficiency in printing technology. According to the FMI, the global sales of pad printing machines is anticipated to increase at a CAGR of 5.4% during the period of 2021-2031, as compared to the registered 3.6% CAGR registered during 2015-2020.
Leading pad printing machine manufacturers are focusing on catering to newer end-use segments like cannabis packaging, industrial components, glassware and textile & apparels to improve strengthen their footprint worldwide.
Integration of machine learning and the use of robots are making printing more flexible and easy. The pad printing machines market will register high growth as focus on technological innovations surges. Pad printing machine demand has increased consistently to effectively print on complex shapes and on a wide range of substrates.
To optimize the process further, manufacturers are looking for cost-effective and a more efficient system for printing. Various industries are showcasing higher preference for pad printing instead of digital printing. This fueling the demand for pad printing machines.
Pad printing is used to print delicate and complex designs on various consumer goods packaging. It is used to print labels on textiles and apparel, also to print turn signal indicators, panel controls, handlebars for the automotive industry and to print over several other goods in industrial and electronic industries.
However, the prime end-user for pad printing is the pharmaceutical and medical devices sector that uses the technique to print syringes, pills, surgical instruments, catheter tubes, contact lenses, among many other things.
Usage of sustainable inks is expected to reshape the demand for pad printing machines. Some of the pad printing machine manufacturers are introducing cameras at various steps of the printing process. Cameras enable users to detect any errors and check the calibrations of the machine set up.
Shenzhen DSTAR Machine Co.,ltd once researched pad printing machine with CCD cameras for some different industry applications.The CCD cameras help to be automatic positioning jobs or printing quality check.For example,printing on 3D pattern on the round silver coin which can't do manual alignment.The CCD camera can configure and coordinate the 3D pattern or printed artwork XYZ coordination.
How is Pharmaceutical and Medical Devices Industry Contributing to Pad Printing Machine Market Growth?
The medical technology represents one of the largest industries in the U.S. According to Internal Trade Administration, Medical technology industry in the U.S. is expected to reach US$ 208 Bn by 2023.
The medical device industry comprises instruments, apparatuses, and machines used for diagnosis, cure and treatment of various ailments and diseases. Pad printing is used on a wide variety of devices including syringes, surgical instruments, catheter tubes, contact lenses, pills, and others.
Pad printing is a part of a large manufacturing process and works as per original equipment manufacturers' (OEMs') requirements, thanks to its high precision tolerance and printing ability on various substrates.
Innovation in the pharmaceutical and medical devices industry is continuously lowering costs and improving the quality of production. This is expected to present lucrative scope for application for pad printing machine within the industry.
Presently,DSTAR Machine from China has supplied many different models Catheter Printing Machine for China catheter manufacturers and foreign medical supplies companies.Their machine almost cover and applied by more than 60% China medical supplies company in Guangdong province,Zhejiang Proinvce,Jiangsu Province,Henan Province,Hebei Province and Sichuan Province.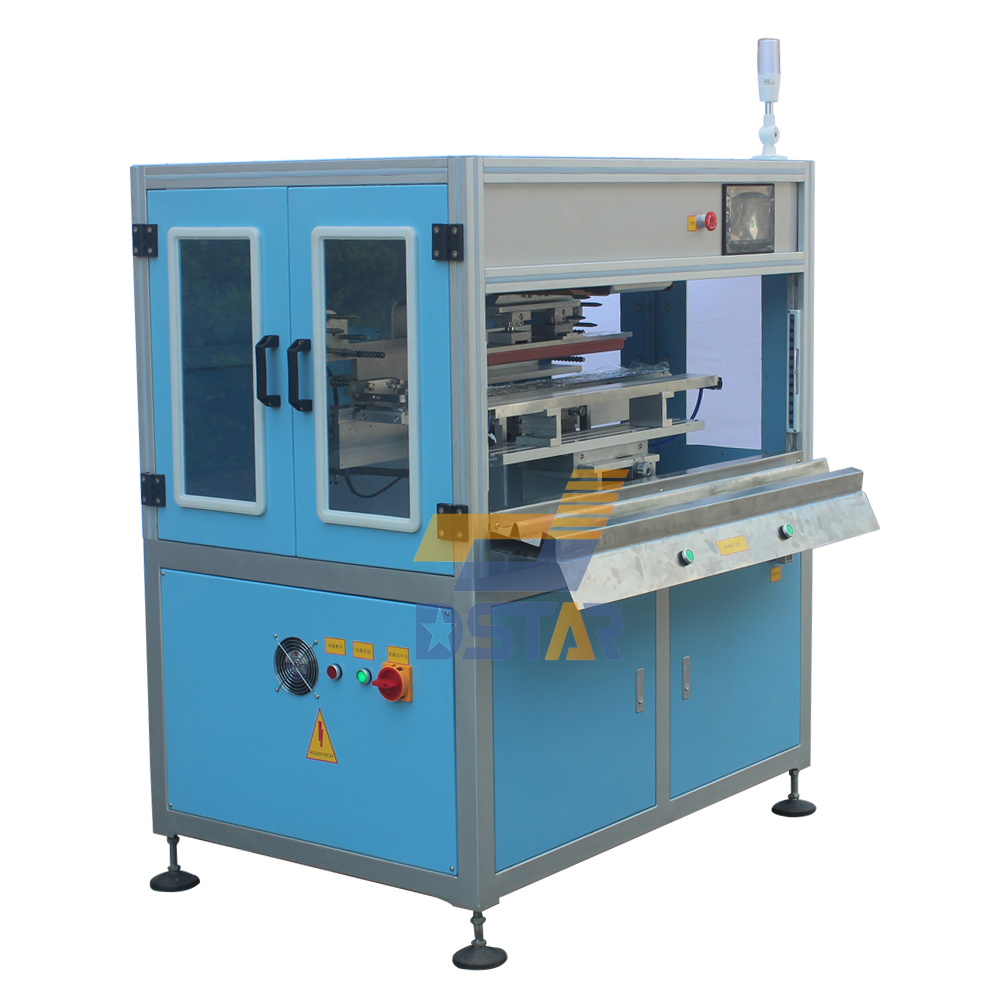 Why the Demand for Multi-Color Logo Printing Machine Increasing?
raditionally tear away labels have to be made separately by the apparel manufacturers and then sewn into the apparel making the process long and tedious. The introduction of tagless label printing significantly reduced the efforts of manufacturers and is rapidly gaining popularity in the apparel industry.
Tagless label printing is the process of printing the material care information and logo of the brand along with other details directly on the fabric. Tagless printing can be done through various processes like heat transfer, screen printing and pad printing. Among the three methods, pad printing is gaining popularity among manufacturers.
Pad printing machines offer several benefits like lower operational costs (average cost of supplies per print US$ 0.003), lower start-up costs, flexibility (ability to print on most of the materials like cotton, polyester, spandex, Lycra among others) and durable prints.
These factors are augmenting the application of pad printing machines for tagless labels in the apparel industry. Manufacturers therefore have the opportunity to launch pad printing machines targeted for tagless label application to capture maximum market share in the apparel industry.
Multi-color logo printing or tagless printing is becoming popular among manufacturers in the apparel and textile industry. Tagless printing could be carried out for almost all garments with one or more colored ink and pad printing machine. Pad printing machines not only lower costs but increase the productivity of printing. Also, tagless labels are more eco-friendly than tag labels, low energy usage and sustainability could be reasons for the same.
Considering these factors, demand in the textile and apparel industry is expected to grow in the coming years, creating attractive opportunities for the pad printing machine market growth.
If you are interested in printing Tagless,kindly recommend DX-MINI-90 1 color desktop pad printer.
What is the Impact of COVID-19 on the Pad Printing Machines Market?
Due to the outbreak of COVID-19 in 2020-2021, most of the markets registered sluggish demand and production, which dampened growth in the global market. Pharmaceutical and medical devices however have helped the pad printing machine market to stay afloat despite the challenges.
Driven by various advantages of pad printing and economical printing, the pad printing machine market is expected to register a high growth during the forecast period. According to FMI analysis, the market is expected to reach a value of US$ 1.8 Bn by 2031.
Category-wise Insights
Why are Multi-color Pad Printing Machines High in Demand?
Multi-color pad printing machines offer a printing of up to six colours. These machines are available with high-quality pad printing pads, pad printing plates, pad printing inks and pad printing cups and rings available on the market. Demand for multi-color pad printing machines is expecting to grow by a CAGR of 5.7% during 2021-2031. Convenience in printing, clear image printing and ability to print complex designs on substrates are driving growth in this category.
Which Printer Type occupies Maximum Share in Pad Printing Machines Market?
According to FMI analysis, flatbed printer account for almost 62% of the total market share in 2021. The usage of flatbed printers in high due to their low cost and easy maintenance. Due to advancement in technology and advantages associated with rotary printers.The demand for flatbed printers will grow consistently in the coming years.
Which Pad Printing Machine Output is Preferred More among Customers?
Customers prefer medium output which could be average of 1,000 cycles per hour. Most of the pad printing machine manufacturers offer machines with 800 to 1,200 cycles per hour and this is the most preferred output among end users.
Medium output pad printing machines will cover maximum market share during the assessment period. The usage of medium output pad printing machines is tending to improve and the segment to account for 42.5% of sales in the global pad printing machine market by 2031.
Why is Pharmaceutical & Medical Devices Industry Leading End User in Pad Printing Machine Market?
Pad printing machines cater a variety of products.such as tubes, catheters, clips, shafts, syringes, handles of medical devices, and a range of pharmaceutical products among others in the pharmaceutical & medical devices industry. Sales of pad printing machine in the sector has surged considerably amid pandemic following the increase in demand for medical and pharmaceutical devices. As a result, the radically growing pharmaceutical & medical devices industry is anticipated remain the primary end user of pad printing machines.
Competitive Landscape
Market players are focusing on collaborations and strategic partnership with printing inks and cups manufacturers to cater the surging demand from the overall printing sector. They are working together with innovative printing ink manufacturers to attract customers.Such Marabu and Ruco.
Pad Printing Machine Market by Category
By Product Color Quantity Type:
By Pad Printer Type:
By Output:
End application industry:
Pharmaceutical & Medical Devices
Textile / Apparel
Automotive
Consumer Goods
Toys
Stationery
Others (Electronics, etc.)
By Region:
North America
Latin America
Europe
East Asia
South Asia
Middle East and Africa (MEA)
Oceania
Keywords
1 color pad printer 1 color pad printing machine ARABIC automatic pad printing machine bottle closure printing machine catheter pad printing machine Catheter printing machine CHINA china economic China economy China printing machine China sea foreign trade coin pad printing machine coin printing machine cosmetic bottle printing cosmetic printing machine cup printing machine cup screen printing machine desktop pad printer EXPO Foreign investment glasses printing machine heel pad printing machine LED bulb logo printing machine led bulb pad printing machine LED bulb printing machine pad printer pad printer machine pad printing pad printing ink pad printing machine pad printing plate pad printing rubber pad printing technology pet cup printing machine printing ink Printing machine screen printing machine Shanghai port silicone pad silicone pad for pad printing silicone pad printer rubber silicone rubber souvenir coin printing machine tampo rubber